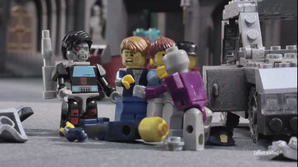 Season:
7
Episode: Panthropologie
Length: 2:46
Cast: Breckin Meyer (Gerry Lane), Seth Green (Gerry's Wife, Cop, General, W.H.O. Doctor, Soldiers), Rob Corddry (W.H.O. Doctor), Dan Milano (Gerry's Son), Matthew Senreich (Barbershop Quartet)
Characters: Gerry Lane, Gerry's Wife, Gerry's Son, General, Bumblebee, Legos, W.H.O. Doctors, Barbershop Quartet, Kre-Os and other imitations
Segment Summary: Warning: This deviates wildly from the novel.
Themes: Dismemberment, Film, Real Toys, Zombies
Allusions:
Mashup of the movie World War Z and the Lego building toys as well of the imitations such as Mega Bloks, Kre-O, Best-Lock, CoCo, BanBao, Rokenbok, Super Blocks and Leggo, among others.
Trivia / Info:
Goofs / Nitpicks:

Community content is available under
CC-BY-SA
unless otherwise noted.