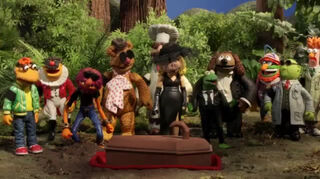 Season:
5
Episode: Schindler's Bucket List
Length: 3:18
Cast: Seth Green (Statler, Waldorf, Camilla the Chicken), Drew Massey (Fozzie Bear, Gonzo), Keith Ferguson (Steve Martin), Breckin Meyer (Skeeter, Scooter), Victor Yerrid (Kermit the Frog, Miss Piggy)
Characters: Gonzo, Fozzie Bear, Kermit the Frog, Miss Piggy, Scooter, Dr. Bunsen Honeydew, Beaker, Rowlf the Dog, Dr. Teeth, Lew Zealand, Swedish Chef, Animal, Steve Martin, Camilla the Chicken, Statler, Waldorf, Penguins, Skeeter
Segment Summary: We learn what happened to Skeeter from "Muppet Babies" when she comes back from the grave to kill the other Muppets.
Written By: Brendan Hay
Themes: Animals, Death, Lengthy, Television, Violence, Bleeped
Allusions:
Parody of The Muppet Show and Muppet Babies
Also features allusions to Pet Sematary, Ed Wood's Glen or Glenda, and Alfred Hitchcock's Psycho.
In the first flashback, Fozzie says the punchline to the joke The Aristocrats.
When confronting Scooter, Camilla clucks "Get away from her, you bitch!", quoting a line from Aliens.
This is similar to I Know What You Did Last Summer, where the Muppets make a pact to cover up the death of Skeeter.
When Steve Martin says "Excuse Me!", Fozzie says he should say "Exuuuuuuuuuuuuuuse me!", a possible reference to Link's infamous catchphrase from the infamous The Legend of Zelda TV series.
Trivia / Info:
After decapitating Gonzo, Skeeter throws the orange inflatable pool (the one she was drowned in years earlier) into the fire. After she kills Fozzie, she pushes onstage the wagon that was used to knock her out.
This sketch has the Palisades Muppet action figures.
Goofs / Nitpicks:
Kermit vowed to never talk about 'That Night', but the incident happened during the day.
Fozzie is stabbed three times by Skeeter, but when he goes onto the stage, he only has one wound.

Community content is available under
CC-BY-SA
unless otherwise noted.