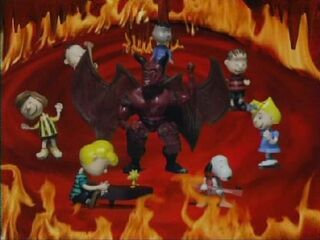 Episode Name: Vegetable Funfest
Season: 1
Episode: 6
Production Code: 11
Air Date: 3/27/2005
Written By: Mike Fasolo, Doug Goldstein, Seth Green, Tom Root, Matthew Senreich
Directed By: Doug Goldstein
Cast: Abraham Benrubi, Seth Green, Mark Hamill, Breckin Meyer, Dan Milano, Chad Morgan, Katelin Peterson, Rory Thost
Episode Summary: The secrets of The Crying Game, Star Wars and The Village are exposed in "Welcome to the Spoilers." The Teen Titans strengthen their roster by adding Beavis and Butt-head. Travel back in time to witness Benny Hill's funeral. The Great Pumpkin of "Peanuts" fame finally shows. RATED TV14
Trivia / Info:
The Stoop!d Monkey has dowsed himself in gasoline and is holding a lit match.
Beavis and Butt-head Join Teen Titans was cut from the DVD version of this episode but the sketch was later added as an extra in the Season 5 set. The sketch can also be seen on Netflix, as the Netflix version has the episode in its entirely.
Special Credits:
Segment List:
Community content is available under
CC-BY-SA
unless otherwise noted.