Season:
7
Episode: Secret of the Booze
Length: 02:03
Cast: Dan Milano (Papa Smurf), Seth Green (Grouchy Smurf), David Shaughnessy (Farmer Smurf), Rachel Bloom (Smurfette), Zeb Wells (Handy Smurf), Matthew Senreich (Doctor Smurf)
Characters: Papa Smurf, Farmer Smurf, Doctor Smurf, Smurfette, Handy Smurf, Grouchy Smurf
Segment Summary: Income equality is alive and well in Smurf Village.
Themes: Television, Bodily Functions, Doctors
Allusions:
Trivia / Info:
According to this sketch, 1 smurfberry equates to $1.78, meaning that 2000 smurfberries would add up to $3,560.
Goofs / Nitpicks: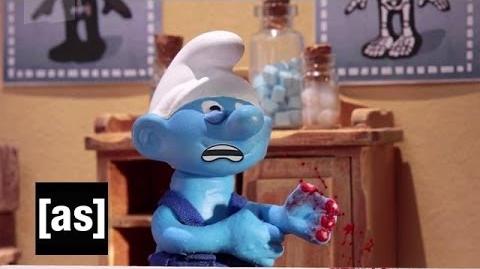 Community content is available under
CC-BY-SA
unless otherwise noted.