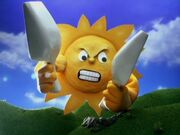 Season:
2
Episode: Suck It
Length: :05
Cast: Seth Green (Sunny)
Characters: Sunny
Segment Summary: You can't be sunny all the time, even if you're an animated sun holding two scoops of raisins.
Animated By: Liz Harvatine
Themes: Food & Drink, Channel Flip
Allusions:
Refers to "Sunny" the Kellogg's Raisin Bran cereal mascot, and plays off the marketing theme of the cereal having two scoops of raisins in every box.
Trivia / Info:
Goofs / Nitpicks:

Community content is available under
CC-BY-SA
unless otherwise noted.