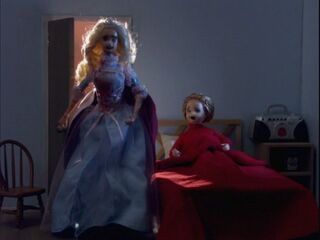 Episode Name: Toyz in the Hood
Season: 1
Episode: 5
Production Code: 10
Air Date: 03/20/2005
Written By: Mike Fasolo, Doug Goldstein, Seth Green, Pat McCallum, Tom Root, Matthew Senreich
Directed By: Matthew Senreich
Cast: Erika Christensen, Donald Faison, Seth Green, Scarlett Johansson, Jamie Kaler, Breckin Meyer, Dan Milano, Chad Morgan
Episode Summary: The tooth fairy stumbles into murder in "Tooth and Consequences." The world's most terrifying supervillians get stuck in traffic. More of television's greatest screw-ups, from shows like "Mr. Rogers' Neighborhood" and "CSI" to various live sports broadcasts, are highlighted in "Bloopers Two".RATED TV14
Trivia / Info:
The Stoop!d Monkey is sticking a hand into a blender while turning it on with the other.
The title of this segment is a play on the title of the film, Boyz in the Hood.
The original tittle was Toyz in the Attic see Rejected Names for more information.
Segment List: