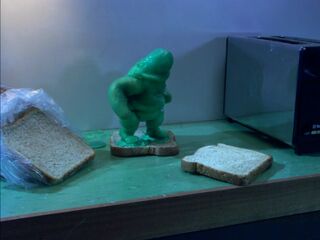 Season:
2
Episode: Rodiggiti
Length: :
Cast: Jordan Ladd (Mom), Quinton Flynn (Dad)
Characters: Boy, Mom, Dad, Booger Man, Cat
Segment Summary: The Booger Man makes a mess.
Written By: Mike Fasolo
Themes: Animals, Bodily Functions, Destruction
Allusions:
The Booger Man somewhat resembles the titular creature of the movie Flubber (Also known as "The Absent-Minded Professor".)
The sound effect of the Booger Man opening the door comes from Silent Hill 4.
The scenes where the cat chases the Booger Man and attacks the boy are similar to shots from Cat's Eye, a horror movie based on short stories by Stephen King. The Booger Man replaces the tiny troll from the movie.
Trivia / Info:
Goofs / Nitpicks:
When the boy's dad throws the cat out the window, the sound of breaking glass can be heard despite the fact that the window is open.

Community content is available under
CC-BY-SA
unless otherwise noted.