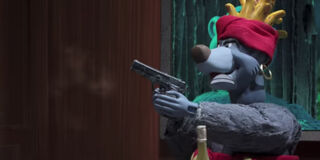 Season:
7
Episode: Batman Forever 21
Length: 2:25
Cast: Calista Flockhart (Rebecca Cunningham), Seth Green (Mowgli, Bagheera, Kaa), Tom Root (Agent 1), Matthew Senreich (Agent 2), Skeet Ulrich (King Louie), Zeb Wells (Kit Cloudkicker), Ben Schwartz (Baloo)
Characters: Baloo, Mowgli, Bagheera, Kit Cloudkicker, Kaa, King Louie, Rebecca Cunningham, Agent 1, Agent 2
Segment Summary: Chip 'n Dale have similar dreams of dressing like Indiana Jones and Magnum, P.I.
Written By: Rachel Bloom
Themes: Animals, Blood, Death, Film, Food & Drink, Guns, Television, Violence
Allusions:
Trivia / Info:
Baloo was right to call King Louie an ape, not a monkey because orangutans are members of the ape family.
Surprisingly, Baloo's habit dressing in drag does actually occur in the actual TaleSpin series. However it isn't just to solve crimes, as Baloo has a penchant for getting into schemes that require him to dress up in drag to suit the situation.
The scene when Baloo breaks Kaa's mouth is similar to a scene in King Kong.
Goofs / Nitpicks:
Mowgli isn't that buff in the movie.
In the TaleSpin series, Rebecca and Baloo do not have any romantic feelings towards each other. However, Rebecca is implied to have some feelings for Baloo in the series itself.

Community content is available under
CC-BY-SA
unless otherwise noted.