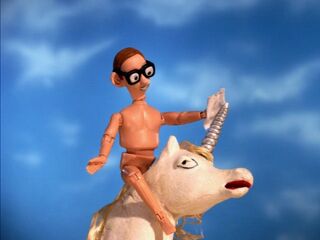 Episode Name: Suck It
Season: 2
Episode: 22
Production Code: 01/22
Air Date: 04/02/2006
Written By: Mike Fasolo, Doug Goldstein, Charles Horn, Seth Green, Breckin Meyer, Tom Root, Matthew Senreich
Directed By: Seth Green
Cast: Alex Borstein, Keith Crofford, Seth Green, Jamie Kaler, Mike Lazzo, George Lowe, Seth MacFarlane, Breckin Meyer, Chad Morgan, Christian Slater, Dana Snyder, Fred Tatasciore
Episode Summary: Robot Chicken gets uncanceled! Learn tips for fighting terrorism! Mexico builds it's greatest hero in The Six Million Peso Man. Skater McGee is a re-animated corpse; an 'extreme' re-animated corpse! Two aliens from Space Invaders revolt. And it's spy vs. spy, '70s style in Mr. & Mrs. Brady!
Trivia / Info:
This is the first episode to begin with a segment other than the Opening Sequence.
The TV at the end of the opening sequence are showing a new set of clips.
The Stoop!d Monkey has just infected himself with the bird flu.
In a promo during the Robot Chicken: Star Wars marathon, Breckin Meyer claims to have created the title for the episode.
Special Credits:
Segment List:
* Denotes segment occurring after the closing credits
** Denotes segment occurring before the opening credits
Community content is available under
CC-BY-SA
unless otherwise noted.