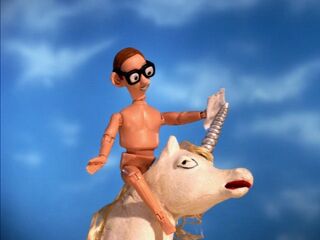 Episode Name: Suck It
Season: 2
Episode: 22
Production Code: 01/22
Air Date: 04/02/2006
Written By: Mike Fasolo, Doug Goldstein, Charles Horn, Seth Green, Breckin Meyer, Tom Root, Matthew Senreich
Directed By: Seth Green
Cast: Alex Borstein, Keith Crofford, Seth Green, Jamie Kaler, Mike Lazzo, George Lowe, Seth MacFarlane, Breckin Meyer, Chad Morgan, Christian Slater, Dana Snyder, Fred Tatasciore, Rick Gomez, (uncredited)
Episode Summary: Robot Chicken gets uncanceled! Learn tips for fighting terrorism! Mexico builds it's greatest hero in The Six Million Peso Man. Skater McGee is a re-animated corpse; an 'extreme' re-animated corpse! Two aliens from Space Invaders revolt. And it's spy vs. spy, '70s style in Mr. & Mrs. Brady!
Trivia / Info:
This is the first episode to begin with a segment other than the Opening Sequence.
The TV at the end of the opening sequence are showing a new set of clips.

Also, in this season, the opening sequence is slightly changed (including the purple shading of the opening credits is now flat) where one of the Chicken's legs is shaking at the beginning, which used until the show's fourth season.

The Stoop!d Monkey has just infected himself with the bird flu.
In a promo during the Robot Chicken: Star Wars marathon, Breckin Meyer claims to have created the title for the episode.
Segment List:
* Denotes segment occurring after the closing credits
** Denotes segment occurring before the opening credits