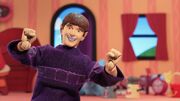 Spike Fraser in: Should I Happen To Back Into A Horse is the ninth episode of Season 10 of Robot Chicken. It premiered on October 27, 2019.
Synopsis: The "Robot Chicken" crew reveals what really happened to Bambi's mother; an Animorph revives the Red Panda population; Brainy Smurf gets diagnosed with CTE; Bitch Pudding goes up against Norman Bates to see who is more psycho.
Pop Goes the Weasel (literally)
Brainy Smurf Gets CTE
The Punisher is Not Alone
Cheetah Takes on Princess Diana
How Skeletor Got His Name
JFK and the Magic Bullet
Children of the Nights
Absentee Predator end-tag
Community content is available under
CC-BY-SA
unless otherwise noted.