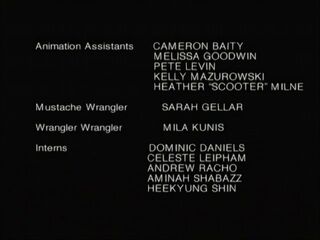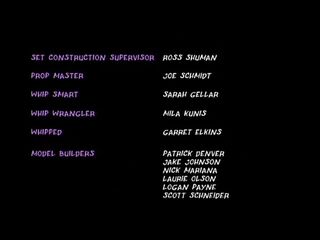 Most episodes contain fake, just-for-fun credits thrown in at the end. Sarah Michelle Gellar gets a credit every time (as Sarah Gellar) and usually Mila Kunis. Once, special credits were repeated in two consecutive season one episodes. A member of the crew is also sometimes name-checked. In season one, it was animator Shannon Gold. Season two saw editor Garret Elkins singled out. Season three's honoree is effects artist Matt Peake. Digital effects artist Andrew Racho was called upon for Robot Chicken: Star Wars Episode II and Season four. Robot Chicken: Star Wars Episode III and season five target visual effects artist Cam Leeburg. Season six targets visual effects artist Brian Kokoszka and season seven targets visual effects artist Jason Oshman. These credits sometimes make reference to one of its respective episode's segments and usually complement each other. Note that season two and later utilize a different, all-capitals font when airing the end credits.
---

Toyz in the Hood

Vegetable Funfest

A Piece of the Action

S&M Present

Badunkadunk

Toy Meets Girl

Midnight Snack

Atta Toy

Joint Point

Kiddie Pool

Nightmare Generator

Operation Rich in Spirit

The Sack

Adultizzle Swizzle

That Hurts Me

The Black Cherry

Suck It

Federated Resources

Easter Basket

Celebrity Rocket

Dragon Nuts

1987

Cracked China

Rodiggiti

Massage Chair

Password: Swordfish

31

The Munnery

Metal Militia

Veggies for Sloth

Blankets in a Pig

Sausage Fest

Day at the Circus

Werewolf vs. Unicorn

Squaw Bury Shortcake

Rabbits on a Roller Coaster

Tapping a Hero

Shoe

Endless Breadsticks

Yancy the Yo-Yo Boy

More Blood, More Chocolate

Celebutard Mountain

Moesha Poppins

Ban on the Fun

Losin' the Wobble

Slaughterhouse on the Prairie

Robot Chicken's Half-Assed Christmas Special

Tubba-Bubba's Now Hubba-Hubba

Boo Cocky

Bionic Cow

Monstourage

President Evil

Chirlaxx

sw2

Help Me

They Took My Thumbs

I'm Trapped

In a DVD Factory

Tell My Mom

P.S. Yes, In That Way

Love, Maurice

Two Weeks Without Food

But Not In That Way

I Love Her

We Are a Humble Factory

Maurice Was Caught

Unionizing Our Labor

President Hu Forbids It

Due to Constraints of Time and Budget

The Ramblings of Maurice

Cannot Be Erased, So Sorry

Please Do Not Notify Our Contractors

Especially the Animal Keith Crofford!

Dear Consumer

Robot Chicken's DP Christmas Special

Saving Private Gigli

Terms of Endaredevil

Big Trouble in Little Clerks 2

Kramer Vs. Showgirls

Malcolm X: Fully Loaded

Major League of Extraordinary Gentlemen

Schindler's Bucket List

No Country For Old Dogs

Catch Me If You Kangaroo Jack

Beastmaster & Commander

Casablankman

The Departy Monster

Some Like It Hitman

The Core, The Thief, His Wife and Her Lover

Casablankman II

The Curious Case of the Box

The Godfather of the Bride II

Fool's Goldfinger

100

Executed by the State

Crushed by a Steamroller on My 53rd Birthday

Eviscerated Post-Coital by a Six Foot Mantis

Eaten by Cats