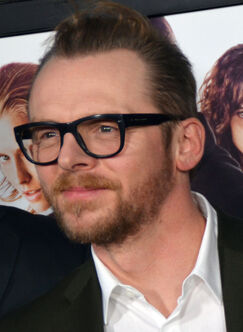 Simon Pegg (born February 14, 1970) is an English actor, comedian, writer, film producer and director. He is best known for his starring roles in Shaun of the Dead, Hot Fuzz, Run Fatboy Run, the comedy series Spaced and his recent portrayal of Scotty in Star Trek. Much of his major work has been in collaboration with some combination of Nick Frost, Jessica Hynes, Dylan Moran and Edgar Wright. Pegg has a close friendship with American actor David Schwimmer. The two have worked together in Band of Brothers, Big Nothing and Run Fatboy Run. His likeness was also used for the character of Wee Hughie in the comic book series The Boys; while this was done without Pegg's permission, he quickly became a fan of the title, and even wrote the introduction to the first bound volume.
Episodes Acted In:

Due to Constraints of Time and Budget

Cannot Be Erased, So Sorry
Deleted Animatics:
External Links:
Community content is available under
CC-BY-SA
unless otherwise noted.