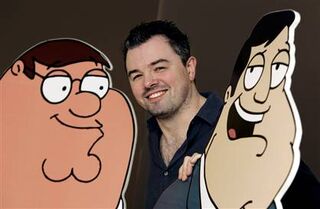 {{#watch:8a25c39215a3b3d40115a48017d70044}}
{{#watch:Error: String exceeds 1,000 character limit.}}
Seth Woodbury MacFarlane
(born October 26, 1973 in Kent, Connecticut) is an actor, voice actor, animator, screenwriter, producer and director.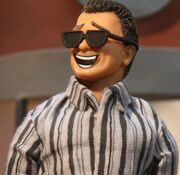 He is best known as the creator of the animated series
Family Guy
(1999-2003, 2005-present),
American Dad!
(2005-present) and
The Cleveland Show
(2009-2013).
MacFarlane received his diploma at the Kent School in Connecticut, whose headmaster publicly rebuked MacFarlane for his "low" brand of humor. He went on to study animation at the Rhode Island School of Design. While in college, he created a short film entitled The Life of Larry, an early ancestor of Family Guy. After graduation, he was hired by Hanna-Barbera Productions and later worked as an animator and writer for Cartoon Network's Cartoon Cartoons series, which included Johnny Bravo, Dexter's Laboratory and Cow and Chicken. In 1996, MacFarlane created a sequel to The Life of Larry for Hanna-Barbera Cartoons; the child-friendly Larry and Steve, which featured the bumbling middle-aged Larry and his highly intelligent dog Steve. The short was broadcast as one of Cartoon Network's World Premiere Toons. Executives at Fox saw both Larry shorts and contracted MacFarlane to create a series based on the characters. He started work on Family Guy in 1998. On both of his series, MacFarlane provides the voices for a vast number of characters together with his younger sister Rachael Ann MacFarlane. In American Dad!, he voices the main character, Stan Smith (right on above image), Roger the Alien and in Family Guy, he voices Peter Griffin (left on above image), Stewie Griffin, Brian Griffin (really just MacFarlane's speaking voice), Glenn Quagmire, news anchor Tom Tucker, Carter Pewtershmidt, Dr. Elmer Hartman, and various others. Seth Green (co-creator of Robot Chicken) provides the voice of Peter's son, Chris on the show, alongside various other characters. MacFarlane has made numerous appearances as a voice actor on the shows of Cartoon Network's Adult Swim in the past few years, including the voice of Wayne "The Main Brain" McClain in an episode of Aqua Teen Hunger Force, and an ever-growing list of characters on Robot Chicken. In the season 4 premiere, Seth makes his first appearance as himself in Cultivated Relationships, meeting Seth and Matt outside a Fox building. MacFarlane brings up Green's involvement with his show and we're treated to several cutaway gags quite reminiscent of Family Guy.
Episodes Acted In:

Junk in the Trunk

The Deep End

Badunkadunk

Toy Meets Girl

Nightmare Generator

Adultizzle Swizzle

Robot Chicken Christmas Special

Suck It

Federated Resources

1987

Robot Chicken: Star Wars

Endless Breadsticks

Robot Chicken's Half-Assed Christmas Special

sw2

Help Me

In a DVD Factory

Tell My Mom

But Not In That Way

Cannot Be Erased, So Sorry

Dear Consumer

Robot Chicken: Star Wars Episode III

Robot Chicken's DP Christmas Special

Robot Chicken's ATM Christmas Special

Botched Jewel Heist

Choked on a Bottle Cap

Born Again Virgin Christmas Special

Rebel Appliance

The Robot Chicken Lots of Holidays but Don't Worry Christmas is Still in There Too so Pull the Stick out of Your Ass Fox News Special
Episodes Appeared In:

Help Me
External Links:
Community content is available under
CC-BY-SA
unless otherwise noted.