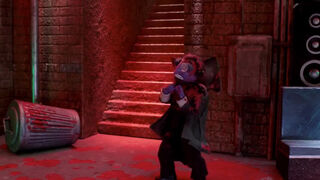 Season:
7
Episode: Victoria's Secret of NIMH
Length: 1:47
Cast: Seth Green (Count von Count, Oscar the Grouch, Count Chocula), Breckin Meyer (Alex), Jordan Peele (Blade), Victor Yerrid (Big Bird)
Characters: Alex, Count von Count, Big Bird, Cookie Monster, Oscar the Grouch, Bert, Ernie, Elmo, Ricky Recycle Bin, Grover, Puppet Hookers, Blade, Count Chocula
Segment Summary: This must be why Muppets don't age.
Themes: Blood, Dancing, Death, Food & Drink, Guns, Television, Violence
Allusions:
Trivia / Info:
Ricky Recycle Bin from A Grouchy Start makes a cameo appearance during the scene where Bert and Ernie are dancing.
Jordan Peele, the voice of Blade in this sketch ironically voiced Big Bird in some parodies on MADtv. Despite this, he did not reprise that role.
Alex, whose father is in jail, first appeared in the Sesame Street resource video Little Children, Big Challenges: Incarceration.
When Alex mentions Ice-T and Katy Perry, he references their guest appearances on Sesame Street, the latter of whom's appearance was pulled due to concerns of Perry's low cut outfit.
Goofs / Nitpicks:

Community content is available under
CC-BY-SA
unless otherwise noted.