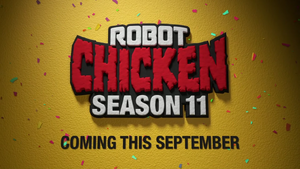 Season 11 of Robot Chicken was confirmed via a Twitter report from [swimpedia].[1]
It premiered on September 6, 2021 and concluded on April 11, 2022.[2][3]
Episodes
Trivia
Currently, twelve episodes have been released on every week of September 2021, while the rest of the episodes in the season would be released from February 21, 2022 to April 11, 2022.
With the exception of "Happy Russian Deathdog Dolloween 2 U", every episode of this season contains titles that start with "May Cause".
Gallery
References