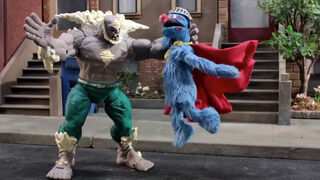 Season:
7
Episode: Chipotle Miserables
Length: 0:12
Cast: Seth Green (Super Grover)
Characters: Super Grover, Cookie Monster, Elmo, Big Bird, Ernie, Doomsday
Segment Summary: It was always just a matter of time.
Themes: Comics, Death, Superheroes, Television, Violence
Allusions:
The monster who fights Super Grover is Doomsday, an enemy of Superman.
Trivia / Info:
Goofs / Nitpicks:

Community content is available under
CC-BY-SA
unless otherwise noted.