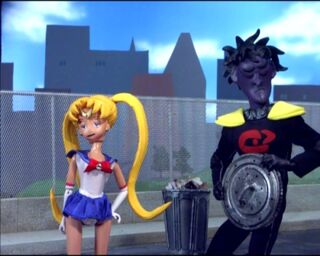 {{#watch:163101089933a30dba15507510270a06}}
Watch Sailor Moon Confronted on [as] video
Season:
1
Episode: Joint Point
Length: :48
Cast: Seth Green (Luna, Bone-Chilling Villain), Scarlett Johansson (Sailor Moon)
Characters: Sailor Moon, Luna, and Bone-Chilling Villain
Segment Summary: Sailor Moon encounters a bone-chilling villain.
Themes: Anime, Bodily Functions, Continued, Food & Drink, School, Sexuality, Television
Allusions:
Trivia / Info:
Continued in Queen Beryl is Mad
YouTube video is called Sailor Moon is Hot
This segment was made before Viz Media re-dubbed the Sailor Moon series. "Serena" was Usagi's English name from the DiC dub.
Goofs / Nitpicks:
Sailor Moon does not have her trademark "dumpling-head" (or "meatball head" in the American dub) hairdo.
Queen Beryl is from Season 1 of Sailor Moon, but the heart that appears behind Sailor Moon as she transforms appears to reference Season 3.
Sailor Moon only has one stripe on her sailor collar (she has two or three, depending on the season).

Community content is available under
CC-BY-SA
unless otherwise noted.