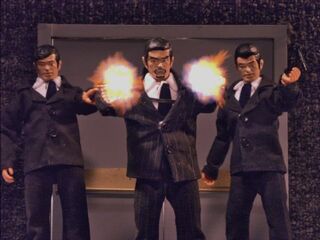 Episode Name: S&M Present
Season: 1
Episode: 9
Production Code: 12
Air Date: 4/17/2005
Written By: Mike Fasolo, Doug Goldstein, Seth Green, Pat McCallum, Tom Root, Matthew Senreich
Directed By: Tom Root
Cast: Lance Bass, Joey Fatone, Seth Green, Mark Hamill, Breckin Meyer, Chad Morgan, Pat Morita, Adam Talbott
Episode Summary: The last surviving member of N*Sync, Joey Fatone, must avenge his murdered bandmates in a deadly martial arts tournament. Check out a little scrambled porn on your 1980s-era cable box. M. Night Shyamalan has endless fake-outs in store for viewers in "The Twist." RATED TV14
Trivia / Info:
The Stoop!d Monkey is holding a banana in one hand and a gun in the other. Guess which one is in his mouth?
This is the second time that the final segment spills over into the closing credits.
Special Credits:
Segment List:
Community content is available under
CC-BY-SA
unless otherwise noted.