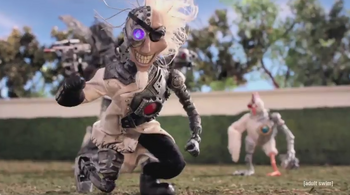 Season:
7
Episode: Chipotle Miserables
Length: 5:06
Cast: Seth Green (Barack Obama, George H. W. Bush, George W. Bush, Bill Clinton, Dark Meat, RoboHobo), Zachary Levi (Mad Scientist's Son)
Characters: Chicken, Mad Scientist, Mad Scientist's Son, Barack Obama, Jimmy Carter, Bill Clinton, George W. Bush, George H. W. Bush, Bar Patrons, News Reporter, Dark Meat, Cyborg Raccoon, Robot White-tailed Deer, RoboHobo
Segment Summary: It's about time these two hugged it out.
Themes: Alcohol, Animals, Bleeped, Callback, Credits Encroachment, Crime, Death, Destruction, Dismemberment, Film, Guns, Injuries, Money, Politics, Robots, Self-Reference, Sexuality, Slapstick, Television, Violence
Allusions:
At Jimmy Carter's plea to make it stop, the Mad Scientist's Son retorts that their only other option is a "Human Centipede" scenario, to which Bill Clinton understands; this is a reference to the controversial film trilogy "The Human Centipede".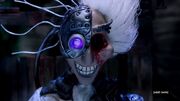 When introducing Robot Homeless Person, the Mad Scientist's Son says #RoboHobo referencing the popular hashtag metadata tag used in social networking.
Trivia / Info:
Footage from the sketch Born In a Manger is shown on various TV monitors.
This is the first appearance of George Bush since Captain Texas is Coming from Chirlaxx.
It is revealed on the back of the photo that the name of Robot Chicken's ex-wife is Cluckerella, despite storyboards for Season 6 giving the character this name already.
Robot Chicken briefly defeats his evil counterpart Dark Meat with his powerful chest laser.

Robot White-tailed Deer kills his own ally Cyborg Raccoon by slicing him into pieces with his sword after Robot Chicken knocks Cyborg Raccoon into his flight path.
Robot Chicken beheads Robot White-tailed Deer killing him.
Robot Chicken easily defeats RoboHobo with a punch despite his reluctance to fight. It is not revealed whether or not he survived.
Dark Meat and the Mad Scientist's Son almost defeat and kill Robot Chicken during the aerial battle, though he is saved by the intervention of the Mad Scientist and his battle mech.
Dark Meat is defeated and killed by Robot Chicken after his head is punched off.
Mad Scientist's Son is defeated by his father and kicked in the "nuts" by Jimmy Carter. Mad Scientist punishes his son by forcing him to endure the same torture that Robot Chicken, Mad Scientist, and the Presidents were forced to suffer.
Robot Chicken & the Mad Scientist are apparently no longer enemies.
Goofs / Nitpicks:
The footage on the TV screens have the incorrect voice on Mary.

Community content is available under
CC-BY-SA
unless otherwise noted.