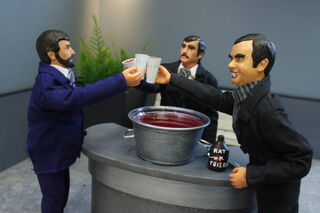 {{#watch:8a2505951e5ec5d3011e5ff4a8a10051}}
Watch Pluto Nash Day on [as] video
Season:
4
Episode: I'm Trapped
Length: 1:20
Cast: Seth Green (Usher, Fox Employee, Fox CEO, Eddie Murphy, Eddie Murphy's Children), Matthew Senreich (Man with Box Office Numbers), Stuart Townsend (Announcer)
Characters: Movie Patron, Movie Usher, Fox Employees, Janitor, Fox CEO, Eddie Murphy, Eddie Murphy's Children
Segment Summary: Never forget the tragedy of August 16th, 2002. Never.
Themes: Death, Fourth Wall, Destruction, Film, History, Motor Vehicles, Suicide
Allusions:
Parody of The Adventures Of Pluto Nash, a film starring Eddie Murphy and a critical and box-office failure.
A few of the executives commit suicide by drinking poisoned Kool-Aid, a reference to the Jonestown cult mass suicide.
The President getting up, running across the table and jumping through the window while laughing parodies the film The Hudsucker Proxy.
Trivia / Info:
The names on the people that were killed on Pluto Nash Day are names of the crewmembers on Robot Chicken.
Goofs / Nitpicks:
Warner Bros. was the distributor of Pluto Nash, not 20th Century Fox.

Community content is available under
CC-BY-SA
unless otherwise noted.