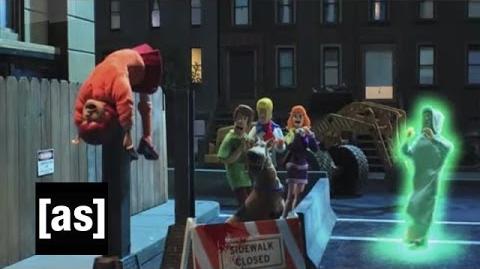 Season:
6
Episode: Punctured Jugular
Length: 3:23
Cast: Linda Cardellini (Velma), Sarah Michelle Gellar (Daphne), Seth Green (Scooby-Doo, Glowing Ghost, Amusement Park Owner, Stiegg Larsson), Gillian Jacobs (Lisbeth Salander), Matthew Lillard (Shaggy), Freddie Prinze, Jr. (Fred)
Characters: Velma, Shaggy, Scooby-Doo, Daphne, Fred, Glowing Ghost, Lisbeth Salander, Stiegg Larsson, Amusement Park Owner
Segment Summary: Scooby and the gang meet a tattooed bisexual.
Themes: Injuries, Animals, Television, Film, Sexuality, Death, Monsters, Blood, Lengthy, Mashups, Violence, Bleeped
Allusions:
Trivia / Info:
All the members of the films reprise their roles for this sketch from A Scooby Friday, Laff-A-Munich (Matthew Lillard only), the second film also featured Seth Green.
In the scene Daphne has Purple eyes (which she admits are contacts), this comes from Scooby-Doo! Mystery Incorporated. In most series of the Scooby-Doo franchise, she has black.
Goofs / Nitpicks:
Fred wears a red scarf, but in the real television series, it was orange.
Lisbeth Salander is Swedish, but sounds British in this sketch.

Community content is available under
CC-BY-SA
unless otherwise noted.