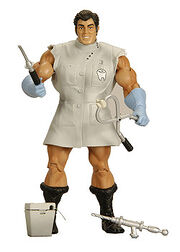 Mo-Larr, Eternian Dentist, is a character on Robot Chicken who makes recurring appearances in the show's Masters of the Universe sketches, and he never holds back from his duty of pulling rotten teeth. His official bio is below.
"When an impacted wisdom tooth or an infected molar threatens the oral health of anyone in the Dark or Light Hemispheres, Mo-Larr, Eternian Dentist, is called! Relentlessly dedicated to his craft, Mo-Larr has been known to travel to the gates of Snake Mountain itself to insist his clients keep their appointments! Whether hero or villain, it's all the same to Mo-Larr — the sworn enemy of all Eternian cavities!"
Episodes Appeared In:

1987

Saving Private Gigli

Terms of Endaredevil

100

120
Community content is available under
CC-BY-SA
unless otherwise noted.