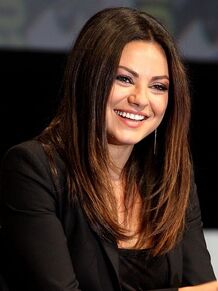 Milena Markovna "Mila" Kunis (born August 14, 1983) is an American actress, voice artist and comedienne, perhaps best known for playing Jackie Burkhart on That 70's Show and for performing the voice of the character Meg Griffin on the popular animated series, Family Guy. She does not exhibit much of a vocal range, using her normal speaking voice (or close to it) for practically every character.
Episodes Acted In:

Gold Dust Gasoline

Badunkadunk

The Sack

Adultizzle Swizzle

The Black Cherry

Federated Resources

Veggies for Sloth

Blankets in a Pig

Werewolf vs. Unicorn

Bionic Cow

In a DVD Factory

Love, Maurice

No Country For Old Dogs

Some Like It Hitman
Episodes Appeared In:

The Black Cherry

Some Like It Hitman
Special Credits:

Toyz in the Hood — Wrangler Wrangler

Vegetable Funfest — Second Aid

A Piece of the Action — Extra Casting

S&M Present — Busting Heads

Badunkadunk — Best Girl

Toy Meets Girl — Ms. Kunis' Stand-in

Midnight Snack — Ms. Kunis' Stand-in

Atta Toy — Prop Master

Joint Point — Monkey Enthusiast

Nightmare Generator — Ila-may Unis-kay

Operation Rich in Spirit — Stunning

The Sack — Ping Pong Coach

Adultizzle Swizzle — Ping Pong Coach

That Hurts Me — T-Ball Advisor

The Black Cherry — Mr. Green's Hygiene Coach

Suck It — WHIP WRANGLER

Federated Resources — FRANCOPHILE

Easter Basket — SPECIAL SPANKS

Celebrity Rocket — CATWOMAN

Dragon Nuts — TOMB RAIDER

1987 — NERF CONSULTANT

Cracked China — GOLDEN GIRLS WARDROBE

Rodiggiti — INVENTED LIQUID PAPER

Massage Chair — HAIR STYLIST FOR MR. GREEN

Password: Swordfish — HEIMLICH ENTHUSIAST

Adoption's an Option — DOG WHISPERER

The Munnery — LOVETAKER

Metal Militia — STAND-OUT

Veggies for Sloth — CARROT CAKE

Blankets in a Pig — CARROT CAKE

Sausage Fest — VULCAN

Day at the Circus — FIGHTER

Werewolf vs. Unicorn — LOVEABLE

Squaw Bury Shortcake — PRINCESS

Rabbits on a Roller Coaster — WONDER WOMAN

Tapping a Hero — TWICE INTRIGUED

Shoe — MEG GRIFFIN

Endless Breadsticks — THREE TIMES A LADY

Yancy the Yo-Yo Boy — ENGAGED

More Blood, More Chocolate — KITTEN

Celebutard Mountain — BRUNETTE

Moesha Poppins — PRINCESS LEIA

Ban on the Fun — THELMA

Losin' the Wobble — HIGH ENERGY

Slaughterhouse on the Prairie — SHE-RA

Robot Chicken's Half-Assed Christmas Special — A CHRISTMAS STORY

Tubba-Bubba's Now Hubba-Hubba — A MILLION MILES AWAY

Boo Cocky — LOLLIPOP

Bionic Cow — GREAT LOOKS

Monstourage — HAS CHARM

President Evil — FLUTIST

Chirlaxx — HORSE WHISPERER

Robot Chicken: Star Wars Episode II — SLAVE GIRL

Help Me — POCKET KINGS

They Took My Thumbs — HOT

I'm Trapped — PRINCESS

In a DVD Factory — EATS HEALTHY

Tell My Mom — EXCELLENT

P.S. Yes, In That Way — LAMBORGHINI

Love, Maurice — SUPER FLUFFY

Two Weeks Without Food — FUDGE BROWNIE

But Not In That Way — WHO I DREAMED OF

I Love Her — LOVES CHILDREN

We Are a Humble Factory — XBOX 360

Maurice Was Caught — GREAT

Unionizing Our Labor — FACEBOOK

President Hu Forbids It — 100%

Due to Constraints of Time and Budget — ESKIMO KISS

The Ramblings of Maurice — GIRL

Cannot Be Erased, So Sorry — COMPLETE BABE

Please Do Not Notify Our Contractors — BUBBLE BATH

Especially the Animal Keith Crofford! — BUTTERBEAR

Dear Consumer — HONORABLE CITIZEN

Robot Chicken's DP Christmas Special — VALEDICTORIAN

Saving Private Gigli — G.E.D

Terms of Endaredevil — DOUBLE THE FUN

Big Trouble in Little Clerks 2 — DREAM GIRL

Kramer Vs. Showgirls — HOT MIC

Malcolm X: Fully Loaded — COMPLETELY INDISPENSABLE

Major League of Extraordinary Gentlemen — IS IT THE SHOES?

Schindler's Bucket List — ELEGANT

No Country For Old Dogs — FREE THINKER

Catch Me If You Kangaroo Jack — TEAM MANAGER

Link's Sausages — MUST LOVE DOGS
External Links:
Community content is available under
CC-BY-SA
unless otherwise noted.