Mike Lazzo
is an American television executive who served from 2001 to 2019 as the executive Vice President of comedy programming at Williams Street Studios, the company that makes the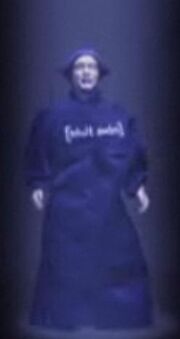 Toonami, Miguzi, Fridays, and Adult Swim programming blocks on Cartoon Network. He started out running Cartoon Network when it was simply a place to show cartoons from the Hanna-Barbera library, after Turner purchased it. In 1996 when Turner and Time-Warner merged he lost control of Cartoon Network and moved over to working for Williams Street. He is commonly and usually incorrectly credited as the creator of Aqua Teen Hunger Force, The Brak Show, Tom Goes to the Mayor, Stroker and Hoop, 12 oz. Mouse, and Squidbillies, among others. However, he did help to create the show Space Ghost: Coast to Coast. Lazzo, along with Cartoon Network Executive Khaki Jones, helped restart Home Movies on Adult Swim after the show had been cancelled on UPN. Because the shows under his control have been so popular, it is generally believed that he holds a lot of weight in Adult Swim's decisions.
Lazzo retired from Adult Swim in 2019 - and his position was assumed by Keith Crofford.
Episodes Acted In:

Suck It

Easter Basket

Werewolf vs. Unicorn

Beastmaster & Commander
Episodes Appeared In: 

Chirlaxx

Help Me

100

120
External Links:
Community content is available under
CC-BY-SA
unless otherwise noted.