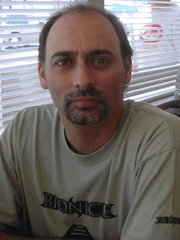 Michael "Mike" Fasolo (born January 28, 1969) was born and raised in the small town of Tuxedo, New York. He graduated from the comparatively small Tuxedo High School and went on to attend Ramapo College of New Jersey where he earned his BA in Literature. While writing as always been a passion, his first break came when he was hired as a journalist at a local paper THE PHOTO NEWS, where his maiden story landed on the front page.
In 1994, fasolo joined the staff of Wizard Magazine as the head of the Research Department, where he was in charge of gathering information and illustrations on anything and everything that was spotlighted in the issues. After a few months at Wizard, Fasolo was lured over into the Editorial Department of Wizard's sister magazine, InQuest. There, he was put in charge of the News Section, where he reported the latest and greatest on card games, board games, collectibles, etc. However, card games weren't as enjoyable as comic books, so after a brief 6 months, Wizard Magazine claimed him back as a Copy Editor and Staff Writer.
And it was at Wizard that Fasolo became friends with Matt Senreich. In 2004 Cartoon Network picked up Robot Chicken and Senreich asked Fasolo to relocate to California to be a Writer on the show. Fasolo accepted and has been there ever since. He is about to begin writing on his third season of the number one rated, Emmy Award Winning, Adult Swim show.
Besides writing for Robot Chicken, Mike also has many of his own projects in the works including Feature Films, Television Series, Cartoon, Comics and even Game Shows! He is currently represented by the Endeavor Agency.
Mike Fasolo seems to be the most Internet-visable member of the Robot Chicken writing team. He has contributed to every episode, with two exceptions. He also finds time to post to his blog.
Episodes Written By:

All of Them
*Except for The Deep End and Junk in the Trunk.
Episodes Acted In:

Robot Chicken's Half-Assed Christmas Special
Episodes Appeared In:

The Black Cherry

Federated Resources

Dragon Nuts

Werewolf vs. Unicorn
External Links:
Online Commentaries Appearing In:

Bionic Cow

President Evil

They Took My Thumbs
Community content is available under
CC-BY-SA
unless otherwise noted.