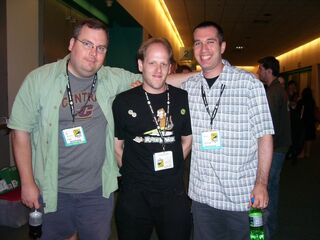 Matthew Ian Senreich was born on June 17, 1974 on Long Island, New York, where he attended Herricks High School, graduating in 1992. Senreich began his entertainment career in 1991 at the early age of 16 when he worked as a summer intern for Marvel Comics (home of Spider-Man, X-Men, etc). It was here that he honed his writing skills and learned from the rising stars of the comic book industry. Throughout his attendence at Wesleyan University in Middletown, CT (1992-1996), Senreich arranged other internships within the comic book community, targeting smaller companies like Defiant, Broadway Comics and the Comic Book Legal Defense Fund where he gained more personal hands-on experience. Finalizing his internship bonanza, Senreich returned to Marvel Comics in December 1995. Upon graduating college in '96, he secured a job as an Editorial Assistant at the New York based Wizard Entertainment, a publication house that produces multiple magazines that are the leading source of information about the comic book, action figure, anime, and collectible card gaming community. Wizard produces four monthly publications; Wizard: The Comics Magazine, ToyFare: The Toy Magazine, Anime Invasion and InQuest Gamer in addition to several monthly specialty publications in this field. In only 2 years with Wizard Entertainment, he rose through the ranks and became Editor of ToyFare. And only a year after that, he was promoted to Editorial Director of all Wizard Entertainment's publications. It was through this magazine that Senreich met up with Seth Green, who was a fan of Wizard's magazines. This newfound partnership between Senreich and Green spawned the creation of a series of stop motion animated shorts entitled Sweet J Presents for Sony's Screenblast.com in 2000 / 2001. From these webisodes, Cartoon Network's Adult Swim purchased a 20 episode commitment of Robot Chicken.
Episodes Directed By:

Junk in the Trunk

Toyz in the Hood

Badunkadunk

Toy Meets Girl

Nightmare Generator

The Sack

Adultizzle Swizzle

That Hurts Me

Cracked China

Rodiggiti

Password: Swordfish

Veggies for Sloth

Blankets in a Pig

Book of Corrine

Yancy the Yo-Yo Boy

Ban on the Fun

Robot Chicken's Half-Assed Christmas Special
Episodes Written By:

All of Them
Episodes Acted In:

Midnight Snack

Book of Corrine

Werewolf vs. Unicorn

Chirlaxx

Help Me

They Took My Thumbs

I'm Trapped

Tell My Mom

P.S. Yes, In That Way

Love, Maurice

Two Weeks Without Food

But Not In That Way

Maurice Was Caught

Unionizing Our Labor

Cannot Be Erased, So Sorry

Please Do Not Notify Our Contractors

Especially the Animal Keith Crofford!

Dear Consumer

sw3

Robot Chicken's DP Christmas Special

Saving Private Gigli

Terms of Endaredevil

Big Trouble in Little Clerks 2

Kramer Vs. Showgirls

Malcolm X: Fully Loaded

Major League of Extraordinary Gentlemen

Schindler's Bucket List

No Country For Old Dogs

Catch Me If You Kangaroo Jack

Beastmaster & Commander

Casablankman

The Departy Monster

Some Like It Hitman

The Core, The Thief, His Wife and Her Lover

Casablankman II

The Curious Case of the Box

The Godfather of the Bride II

Fool's Goldfinger

100

Robot Chicken DC Comics Special

Executed by the State

Crushed by a Steamroller on My 53rd Birthday

Punctured Jugular

Poisoned by Relatives

Hurtled from a Helicopter into a Speeding Train

Disemboweled by an Orphan

In Bed Surrounded by Loved Ones

Choked on Multi-Colored Scarves

Hemlock, Gin and Juice

Collateral Damage in Gang Turf War

Eviscerated Post-Coital by a Six Foot Mantis

Butchered in Burbank

Robot Chicken's ATM Christmas Special

Papercut to Aorta

Caffeine-Induced Aneurysm

Eaten by Cats

Botched Jewel Heist

Robot Fight Accident

Choked on a Bottle Cap

120

Born Again Virgin Christmas Special

G.I. Jogurt
Episodes Appeared In:

Book of Corrine

Werewolf vs. Unicorn

Chirlaxx

Help Me

P.S. Yes, In That Way

Saving Private Gigli

120

G.I. Jogurt
Online Commentaries Appearing In:

Robot Chicken: Star Wars

Werewolf vs. Unicorn

Rabbits on a Roller Coaster

Chirlaxx

Help Me

Unionizing Our Labor
Community content is available under
CC-BY-SA
unless otherwise noted.