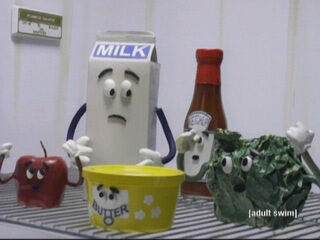 {{#watch:00c3201087599b155add16105eb690ba}}
Watch Logan's Refrigerator on [as] video
Season:
1
Episode: The Black Cherry
Length: :10
Cast: Seth Green (Cabbage, Milk, Food), Jamie Kaler (Food)
Characters: Milk Carton, Lettuce, Ketchup Bottle, Apple, Tub of Butter
Segment Summary: Life day has arrived.
Themes: Food & Drink, Channel Flip
Allusions:
The blinking light in the milk carton's hand is a reference to Logan's Run, in which each character has a "life clock" in their hand that begins to blink red when their "last day" (30th birthday) comes and they are to be ritualistically euthanized.
The label on the ketchup bottle is similar to the Heinz ketchup bottle label
Trivia / Info:
Goofs / Nitpicks:

Community content is available under
CC-BY-SA
unless otherwise noted.