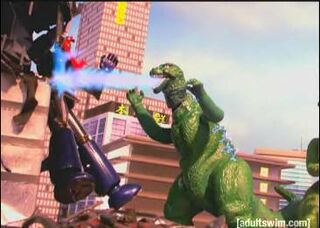 {{#watch:8a25c392146def190114703641a900e5}}
Watch King of the Monsters on [as] video
Season:
3
Episode: Squaw Bury Shortcake
Length: 1:15
Cast: Cee-Lo Green (Godzilla), Seth Green (Great Mazinger), Ethan Hawke (Godzilla Jr.)
Characters: Godzilla, Godzilla Jr., Great Mazinger, King Kong
Segment Summary: Godzilla takes Godzilla Jr. out for a training day.
Themes: Animals, Bleeped, Bodily Functions, Death, Film, Games, Mashups, Robots, Monsters, Anime
Allusions:
This segment is also a parody of the beginning of a 2004 video game named Grand Theft Auto: San Andreas.
This segment is a parody of the US release of Gojira (1954) as Godzilla: King of the Monsters and the movie Training Day starring Ethan Hawke.
The segment's version of Godzilla Jr, a character from Godzilla vs Destroyah, has been given the wide eyes of his 60s counterpart Minya or Minilla.
Great Mazinger is the title character of Great Mazinger, a highly influential giant-robot anime series of the 1970s.
Trivia / Info:
When Godzilla said the street slang "King Kong Ain't got shit on me", it is used literally.
Goofs / Nitpicks:

Community content is available under
CC-BY-SA
unless otherwise noted.