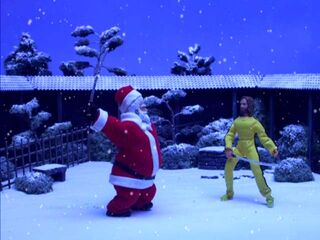 Season:
1
Episode: The Deep End, Robot Chicken Christmas Special
Length: 1:45
Cast: Seth Green (Santa Claus, Easter Bunny), Seth MacFarlane (Jesus), Chad Morgan (Elle Driver)
Characters: Jesus Christ, Easter Bunny, Santa Claus, Rabbi Ninjas, King Herod, Elle Driver, God
Segment Summary: Jesus Christ hunts down his greatest nemesis, Tarantino-style in "Kill Bunny."
Themes: Animals, Death, Destruction, Film, Holidays, Motor Vehicles, Religion, Violence
Allusions:
This segment recreates (Partially) the theatrical trailer for the film Kill Bill. Both Kill Bill and Mel Gibson's The Passion of the Christ were released in the same year (2004), leading possibly to this, as well as several other spoofs.
The old man Jesus fights is God as played by George Burns in the film Oh, God.
Trivia / Info:
The Yellow Jumpsuit and shoes Jesus wears is from the Bruce Lee: The Game of Death figure by enterbay.
When the Rabbi gets his arm severed, he screams the Insane Tantrum Scream.
Goofs / Nitpicks:

Community content is available under
CC-BY-SA
unless otherwise noted.