Season:
4
Episode: Unionizing Our Labor
Length: :43
Cast: David Hasselhoff (Frog), Seth Green (Scorpion, Gerbil)
Characters: Scorpion, Frog, Gerbil
Segment Summary: A frog is asked to take its fellow creatures across the river.
Written By: Doug Goldstein
Themes: Animals, Bleeped, Death, Guns, Literature, Violence
Allusions:
This segment is a parody of the well-known fable The Scorpion and the Frog.
The gerbil promising not to crawl up the frog's ass is an allusion to a case where a man stuck a gerbil up his ass for sexual pleasure.
Trivia / Info:
The frog looks like a stuffed animal.
Goofs / Nitpicks:
When the frog is shooting the animals, he doesn't have his finger on the trigger.
When the Gerbil says "but why" it is no longer Seth Green voicing; it sounds similar if not exactly like Kath Soucie.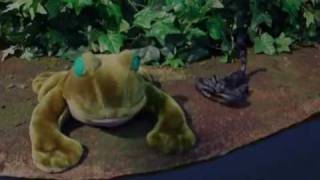 Community content is available under
CC-BY-SA
unless otherwise noted.