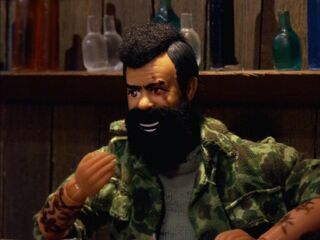 Episode Name: Federated Resources
Season: 2
Episode: 22
Production Code: 05
Air Date: 04/09/2006
Written By: Mike Fasolo, Doug Goldstein, Charles Horn, Seth Green, Breckin Meyer, Tom Root, Matthew Senreich
Directed By: Seth Green
Cast: Michael Benyaer, Corey Feldman, Seth Green, Corey Haim, Mila Kunis, Seth MacFarlane, Breckin Meyer, Chad Morgan, Victor Yerrid Ke$ha Justin Bieber Lego
Episode Summary: A time-traveling jerk wreaks havoc on history. Lion-O, leader of the Thundercats, suffers as an Earth pet. Clifford the Big Red Dog gets in big, red trouble. Evel Knievel wows his nursing home. The Swedish Chef "borks" his way through New York City. Corey Haim and Corey Feldman reunite to rescue the President's daughters. A Day In The Writers Room Of Adult Swim.
Trivia / Info:
Special Credits:
Segment List:
Community content is available under
CC-BY-SA
unless otherwise noted.