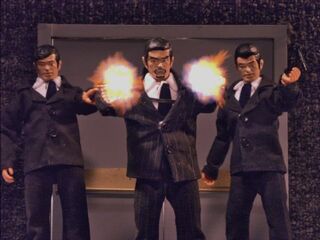 Season:
1
Episode: S&M Present
Length: 3:30
Cast: Lance Bass (Himself, Chris Kirkpatrick), Joey Fatone (Himself, Michaelangelo), Seth Green (Daniel LaRusso, Scorpion, Donatello/Corey Feldman, Hello Kitty), Mark Hamill (Yakuza), Breckin Meyer (Justin Timberlake, Leonardo), Pat Morita (Himself), Adam Talbott (JC Chasez, Raphael)
Characters: Lance Bass, JC Chasez, Joey Fatone, Chris Kirkpatrick, Justin Timberlake, Yakuza Members, Pat Morita, Daniel LaRusso, Scorpion, Sub-Zero, Smoke, Leonardo, Michaelangelo, Donatello, Raphael, Hello Kitty
Segment Summary: The last surviving member of N*Sync, Joey Fatone, must avenge his murdered bandmates in a deadly martial arts tournament.
Themes: Animals, Continued, Credits Encroachment, Death, Destruction, Film, Food & Drink, Guns, Injuries, Lengthy, Politics, Games, Violence
Allusions:
The title is a parody of Enter The Dragon.
This segment features the band N*Sync, particularly member Joey Fatone.
The segment is that of a stereotypical kung fu film, though heavily borrows from The Karate Kid. In addition, Mr. Miyagi and Daniel-san are characters from said film.
Joey is "trained" by characters from the video game Mortal Kombat, the comic Teenage Mutant Ninja Turtles and Japan's Hello Kitty.
One of the turtles mentions Ronald Reagan's economic theory.
A part of Joey's instruction mimics Luke Skywalker's training with The Force in The Empire Strikes Back.
The end credits are proceeded by an outtake from this segment in which Pat Morita flubs his line about Corey Feldman, then watches him jog by in his turtle suit.
Trivia / Info:
Goofs / Nitpicks:
The actors who provide the turtles' voices in the TMNT feature films are not actually in the costumes.

Community content is available under
CC-BY-SA
unless otherwise noted.