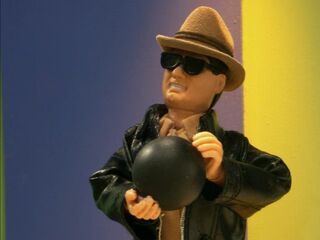 Episode Name: Cracked China
Season: 2
Episode: 27
Production Code: 07
Air Date: 05/14/2006
Written By: Jordan Allen-Dutton, Mike Fasolo, Seth Green, Matthew Senreich, Erik Weiner, Tom Root, Doug Goldstein
Directed By: Matthew Senreich
Cast: Jeannie Elias, Seth Green, Breckin Meyer, Chad Morgan, Susan Silo, Lisa Sunstedt, Adam Talbott
Episode Summary: Learn the secret of Pokemon's Pikachu! Stupid kids get a new high from "numb-chucking." A checkers champion goes on the adventure of a lifetime. Meet Eagle Eye Smith, the blind athlete who will touch your heart. Then meet the four My Little Ponys of the Apocalypse. The Golden Girls share their sexual escapades a la Sex and the City.
Trivia / Info:
The Stoop!d Monkey has decapitated himself with a pair of gardening shears.
The adultswim.com episode guide errorneously lists a segment (A kid gets a used-car surprise: a Tron cycle!) for this episode that does not appear in it. The segment actually appears in the later episode Metal Militia.
Special Credits:
Segment List:
Community content is available under
CC-BY-SA
unless otherwise noted.