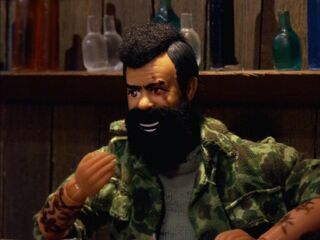 Season:
2
Episode: Federated Resources
Length: 4:49
Cast: Corey Feldman (Himself), Seth Green (Mel E. Kazurowski, Jenna Bush, George W. Bush, Bartender), Corey Haim (Himself), Breckin Meyer (Barbara Pierce Bush, Dustin Diamond)
Characters: Corey Haim, Corey Feldman, Jenna Bush, Barbara Pierce Bush, Dustin Diamond, George W. Bush
Segment Summary: Corey Haim and Corey Feldman reunite to rescue the President's daughters.
Animated By: Matt Manning, Ethan Marak, Sarah Meyer, Liz Harvatine, Pete Levin, Melissa Goodwin
Themes: Bleeped. Sexuality, Nudity, Credits Encroachment, Lengthy, Motor Vehicles
Allusions:
Trivia / Info:
The writing on Haim's shirt is the Japanese word baka ("idiot").
The place they find the president's daughters is apparently the love shack, referring to the song "Love Shack" by the B-52s. One man even says "Love shack baby!", which is heard in the song. Also, there is surf guitar in the background, similar to the guitar in the song
Goofs / Nitpicks:

Community content is available under
CC-BY-SA
unless otherwise noted.