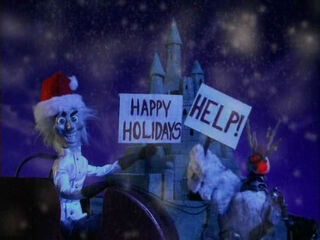 Christmas is one of the most famous holidays in the world in the month of December. It's a holiday about joy, family and friends. Perhaps the most important influence of Christmas is Santa Claus, the jolly fat guy who delivers presents to kids all over the world. Legend has it that he gives presents to the nice kids and coal to the bad kids. He lives with his wife, Mrs. Claus. His elf helpers are the ones who make the toys. His magical reindeer are how he travels all over the world. Many who celebrate Christmas have to have a Christmas tree. Every Christmas day families open their presents, and school is closed. Horray!
The Robot Chicken Christmas Special includes a few segments that aren't actually Christmas-themed, strictly speaking. It also includes a post-credits segment with Mad Scientist and Chicken decked out as Santa and Rudolph wishing us Happy Holidays and begging us for help, respectively.
Segments Alluded To:
Community content is available under
CC-BY-SA
unless otherwise noted.