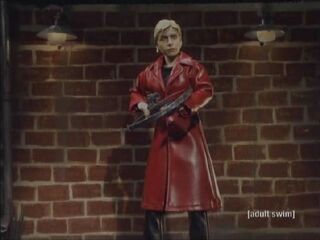 Season:
1
Episode: Plastic Buffet
Length: 1:20
Cast: Sarah Michelle Gellar (Buffy, Herself), Mark Hamill (Chucky), Seth Green (Lettuce-Head Kids)
Characters: Chucky, Lettuce-Head Kids, Buffy, Sarah Michelle Gellar, Sarah's Friend
Segment Summary: Chucky from Child's Play takes on the cutesy Lettuce Head Kids.
Themes: Bleeped, Death, Destruction, Film, Food & Drink, Guns, Holidays, Injuries, Motor Vehicles, Television, Violence, Bug Eyes
Allusions:
Trivia / Info:
The Spinning News motto is "Are you getting dizzy yet?"
The Orange Times motto is "News, bound to make your head spin."
Hollywood Reports motto is "Spinning the news for you daily."
Both "the Spinning News" and "The Orange Times" were seen in Meteorgeddon but with different mottos.
Sarah Michelle Gellar reprises her role as Buffy Summers in Buffy the Vampire Slayer.
Mark Hamill reprises his role as Chucky in the upcoming remake version of Child's Play (2019).
Goofs / Nitpicks:
Chucky wants to reverse the "Gypsy Curse" to get his body back.
The reason why Chucky is a doll is because he used voodoo. When he was human, he was being chased by the police, so he went inside a toy store, used an ancient voodoo technique, and placed his soul in the doll. Chucky's human body is actually buried in New Jersey, and is a skeleton, so he has no need for it.

Community content is available under
CC-BY-SA
unless otherwise noted.