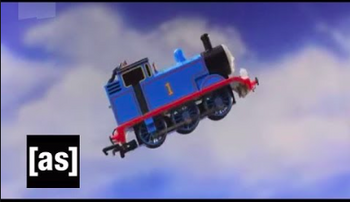 Season: 6
Episode: Hemlock, Gin and Juice
Length: 2:27
Cast: Keith David (Bank Robber), Quinton Flynn (Sir Topham Hatt), Seth Green (The Narrator, James the Red Engine, Mayor of Sodor, Harold the Helicopter), Breckin Meyer (Percy the Small Engine), Laura Ortiz (Rosie the Lavender Tank Engine), Daniel Radcliffe (Thomas the Tank Engine), Matthew Senreich (Mayor's Aid)
Characters: Thomas the Tank Engine, Sir Topham Hatt, James the Red Engine, Percy the Small Engine, Harold the Helicopter, Mayor of Sodor, Rosie the Little Purple Engine, Annie (cameo), Clarabel (cameo)
Segment Summary: When Thomas the Tank Engine gets hijacked, he and his fellow Tank Engines prove that steam transportation is not as obsolete as we assumed.
Themes: Bleeped, Death, Explosions, Literature, Money, Motor Vehicles, Television, Violence, Steam Trains
Allusions:
Trivia / Info:
Most of the Thomas models seen in this sketch are made by Bachmann. A TrackMaster toy of Rosie is used since Rosie did not exist in Bachmann's Thomas range at the time the episode was made, thus making her an apparent non-rail character. Bachmann later released a Rosie model in 2017. Also that same year, she was repainted cherry red.
Daniel Radcliffe, known for playing Harry Potter, voices Thomas in this sketch, which is fitting, since both are British children's literature.
The scene where Thomas jumps over the unfinished bridge could possibly be the inspiration for the 2016 movie, The Great Race.
At the end, the narrator said "no more public transportation". Not all trains and vehicles are gone on Sodor. There's Edward, Henry, Gordon, Toby, Emily, other steam engines, diesel engines, the Skarloey Railway, the Arlesdale Railway and non rail vehicles like Bertie and Bulgy.
The plot is based on The Taking of Pelham One Two Three, which also involves a hijacking on a train that demands a ransom.
Goofs / Nitpicks:
When James and Percy are slowly leaving the yard, James' tender is gone. In the same scene, Bell sound effects are heard, even though James and Percy are British locomotives and don't have bells (but we don't see them in the sketch).
James is seen alongside with Percy but is not seen until the very end of the clip.
When Percy steams from his funnel, his dome is tall and green since his large scale model is actually Thomas' repainted.
In a shot from inside Percy's cab, Thomas appears to have Percy's shape.
Rosie is depicted as being much smaller and not needing rails due to the fact that she was a TrackMaster model and not a Bachmann model as mentioned above.
In the close-up of Thomas biting the rail, his nose is no longer bloody, his purple eye changes to black, and he has no eyebrows.
While usually depicted as fat (backed by his alternate name in the UK, the Fat Controller), Sir Topham Hatt doesn't appear to be fat at all.
When Sir Topham Hatt says, "Pump those pistons, you steam-powered son of a bitch!" his mouth does not move when he finishes the sentence.
Percy exploded after running over a coin. In real life, a coin wouldn't make a train explode and would simply get crushed by the train. This is simply an urban legend.
The robber is using a steering wheel to drive Thomas, whereas locomotives do not have steering wheels.
Harold would not be able to fit through a tunnel, as seen in the Thomas & Friends episodes, "The Thomas Way" (which didn't come out until the year after the episode aired) and "Thomas and the Rumors" where Henry says, "Harold can't fly through tunnels!" unless the tunnel was big enough for Harold to fit through.
Unlike in the show, Harold is depicted as an antagonist. Harold claims the reasoning for this is because he's constantly "taking a back seat to steam trains", when it is clear he is the superior vehicle, as he is capable of flight.
Thomas, Percy and James are British steam locomotives. Therefore, they would not have American steam whistles.
Further adding to the aforementioned Americanisms, inside the Mayor's office is a picture of Theodore Roosevelt.