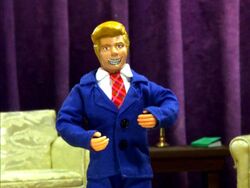 This character is the host of the fictional blooper reel television show, Bloopers, and is voiced by Jamie Kaler. In all of his appearances, except for You Can't Do That On Robot Chicken, Robot Chicken Sells Out, and Robot Chicken Telethon, he attempts suicide with various household items at some point of every skit, usually at the very end. In the sketch Personal Bloopers, the Bloopers Host is revealed to have been a victim of child abuse, have his anus reduced to 50% scarred tissue (as a result of mass defecation), and forced to marry a schoolmate he accidentally impregnated, resulting in him becoming the father to a poorly raised pregnant daughter along with the "audience" of his show turning out to be figments of his tormented mind. He is based on Bob Saget during his run as host on America's Funniest Home Videos.

Episodes Appeared In:

Junk in the Trunk

Toyz in the Hood

Joint Point

The Black Cherry

Massage Chair

31

Book of Corrine

Beastmaster & Commander

100
Community content is available under
CC-BY-SA
unless otherwise noted.