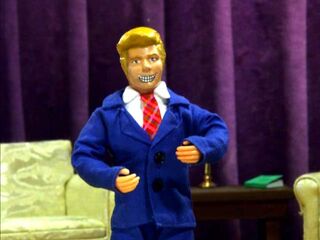 Season: 1
Episode: Junk in the Trunk
Length: 5:13
Cast: Donald Faison (Mr. T), Terrance Jones (George Reeves), Jamie Kaler (Bloopers Host), Seth MacFarlane (Jerry Poppendaddi), Seth Green (Cameraman, Squirtle, Keanu Reeves, Corky Thatcher, Bo Duke, Conrad Bain, Gary Coleman, William Shatner, Leonard Nimoy, Clapper, Serials Actor, Cylon), Macaulay Culkin (Luke Duke, Pikachu), Chad Morgan (Agent Dana Scully, Phyllis Coates), Dax Shepard (Commander Adama)
Characters: Bloopers Host, Jerry Poppendaddi, Cameraman, Ling Ling, Bo Duke, Luke Duke, Agent Dana Scully, Keanu Reeves, Mr. T, Corky Thatcher, George Reeves, Phyllis Coates, Conrad Bain, Gary Coleman, Todd Bridges, Dana Plato, Pikachu, Squirtle, William Shatner, Leonard Nimoy, Commander Adama, Lt. Starbuck, Cylons
Segment Summary: Outtakes from Dukes of Hazzard, The X-Files, Battlestar Galactica and more come to light in "Bloopers."
Themes: Alcohol, Animals, Bleeped, Bodily Functions, Credits Encroachment, Death, Destruction, Film, Food & Drink, Fourth Wall, Guns, Injuries, Lengthy, Motor Vehicles, Nudity, Recurring, Robots, Segmented, Television, Violence, Anime, Suicide, Comedy
Allusions:
This segment parodies Dick Clark's Bloopers TV programs.
This segment includes "bloopers" from the following television shows: Diff'rent Strokes, The Dukes of Hazzard, Pokémon, Star Trek, The Adventures of Superman, The X-Files, and Battlestar Galactica.
Keanu Reeves is dressed like his film character 'Neo' in The Matrix series, but he acts more like his character 'Ted' in the Bill & Ted movies.
Mr. T mumbles something about "bad for the kids", which is probably a reference to his Public Service Announcement days.
Charles "Corky" Thatcher from the sitcom Life Goes On makes an appearance in one of the X-Files screen tests. Corky's portrayal here is in reference to the fact that he was one of the first characters in mainstream television to have an intellectual disability (his actor on the show, Charles Burke, has Down's syndrome)

In addition, in this sketch, Corky resembles Quasimodo from The Hunchback of Notre Dame.

The reporter's name, Jerry Poppendaddi, is a reference to the band "The Cherry Poppin' Daddies".
Trivia / Info:
A cylon can be seen falling down the stairs from the Kill Bunny segment from The Deep End, which had been produced but had yet to air.
The closing credits begin rolling over the final moment of this segment.
The prison door behind one of the cylons reads 1138, a reference to the George Lucas film THX-1138.
Goofs / Nitpicks:
The clapperboard for The Dukes of Hazzard spells "Hazard" with only one 'Z'.
Some of the grass behind Squirtle is moving a tiny bit.