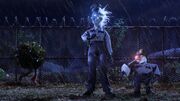 Season:
n/A
Episode: DC Comics Special II: Villains in Paradise
Length:
Cast: Kevin Shinick (Announcer)
Characters: The Riddler, Lex Luthor, Black Manta, Mister Banjo, The Penguin, Bizarro, Gorilla Grodd, Sinestro, Scarecrow (DC), Captain Cold, Robot Chicken, Mad Scientist, Nerd
Segment Summary: Arkham Asylum... where villains go to escape.
Themes: Drugs, Prison, Sexuality, Callback, Comics, Crime, Slapstick
Allusions:
Trivia / Info:
The Mad Scientist is shown to be a smoker.
Goofs / Nitpicks:

Community content is available under
CC-BY-SA
unless otherwise noted.