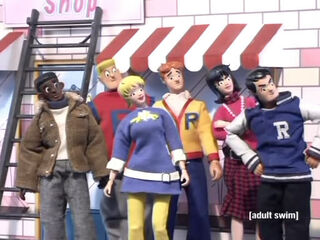 Season:
2
Episode: Veggies for Sloth
Length: 3:58
Cast: Josh Cooke (Jughead), Seth Green (Moose, Ms. Grundy), Scarlett Johansson (Veronica), Mila Kunis (Betty), Shane McRae (Archie), Breckin Meyer (Reggie), Alfonso Ribeiro (Chuck), Tom Root (Mr. Lodge; uncredited), David Hasselhoff (Pop Tate)
Characters: Archie Andrews, Veronica Lodge, Jughead Jones, Betty Cooper, Reggie Mantle, Moose Mason, Miss. Grundy, Chuck Clayton, Pop Tate, Mr. Lodge, Grim Reaper
Segment Summary: The gang from Archie Comics learn that nobody cheats Death for long!
Themes: Animals, Bleeped, Blood, Bodily Functions, Comics, Death, Food & Drink, Lengthy, Mashups, Motor Vehicles, Sexuality, Violence, Vomit
Allusions:
Trivia / Info:
This segment was cut from the Season 2 DVD due to copyright issues, but it now can be found in the Deleted Scenes section of disc 2 of the Season 5 DVD. This sketch, as well as the entire episode, is also included on Netflix, and later on, Hulu for streaming.
The more recent airings of this episode include a season 1 deleted scene, Citizen Spears in place of this sketch. The episode was renamed Blankets in a Pig. However, the original episode is included on Netflix and Hulu, while Citizen Spears, as well as the entire replacement episode, was not included on the Netflix/Hulu version.
The premonition sequence occurs on a bus ride. In the actual Final Destination series, a premonition featuring a bus ride on a collapsing bridge is featured in Final Destination 5.
You will never see this episode, unless if you have Netflix and/or Hulu. The Netflix/Hulu version of Veggies for Sloth has this sketch intact.
Goofs / Nitpicks:
This skit shows that Jughead is bald, but he is not bald. Some Archie Comics showed Jughead without his hat and he has hair right on top.

Community content is available under
CC-BY-SA
unless otherwise noted.