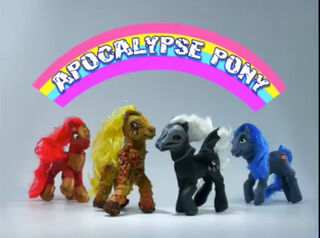 {{#watch:ad40a1817750901f09412c03033b1c76}}
Watch Apocalypse Pony
on [as] video
Season: 2
Episode: Cracked China
Length: 0:56
Cast: Seth Green (Announcer, Little Boy, Pestilence Pony, Famine Pony, War Pony, Death Pony), Chad Morgan (Mom), Lisa Sunstedt (Little Girl), Adam Talbott (Dad)
Characters: Little Boy, Little Girl, Mom, Dad, Pestilence Pony, Famine Pony, War Pony, Death Pony
Segment Summary: Meet the four My Little Ponies of the Apocalypse.
Themes: Animals, Commercials, Self-Reference, Death, Television, Violence, Food & Drink
Allusions:The War pony is male The four ponies correspond to the Four Horsemen of the Apocalypse from the Biblical book of Revelation.
Trivia / Info:
The drawing that the kids put on the wall is the Robot Chicken and "FART" twice.
The mom mistakes the word "death" for the word "deaf".
It is based on the real series of movies, My Little Pony.
The 

War pony is male
Goofs / Nitpicks:
Just before Death Pony kills the family, the family changes position from holding each other to stand next to each other with no time to do so.

Community content is available under
CC-BY-SA
unless otherwise noted.